At almost each therapy session or evaluation, we cover whether or not Peanut is correctly playing with toys.  Usually, this is easy answered…no she doesn't.  Toys get thrown, shaken, sorted and more often than not, they are put in her mouth.  This has been where the differences between Peanut and her other Down Syndrome peers has been evident.  Although sometimes its a milestone children with Down Syndrome hit later than typical kids, the majority of them have no issue with pretend play.  I've watched her buddies dance along with toys, stack blocks, race trucks and even sang karaoke.  These are all things I've noticed them developing, and Peanut staying behind.  This is all part of her Autism diagnoses.  Another separation from her peers.
I found this in an article about Autism Play.  (Why Do Autistic Children Play Differently?)
Lack of symbolic play skills. Symbolic play is just another term for pretend play, and by the age of three, most children have developed fairly sophisticated tools for engaging in symbolic play both alone and with others. They may use toys exactly as they're designed—playing "house" with a pretend kitchen and eating plastic food. Or they may make up their own creative pretend play, turning a box into a fortress or a stuffed animal into a talking playmate. Children with autism rarely develop symbolic play skills without help. They may enjoy placing engines on a track, but they're unlikely to enact scenes, make sound effects, or otherwise pretend with their toy trains.

Lack of social communication skills. In order to be successful in pretend play and imitation, typically developing children actively seek out engagement and communication, and quickly learn how to "read" the intentions of other people. Children with autism tend to be self-absorbed, and have little desire to communicate or engage with playmates.
Which is exactly what I see in Peanut.  She sees the object as just an object, not what the possibilities could be.
Enter in a cute little-naked baby doll!  I found this doll on Amazon and wanted to try it out.  Randomly she has been intrigued by dolls.  Some of that is probably because I started watching a baby girl named Ava.  Peanut has loved hugging her and "helping" me with her every day.  So we wanted to try it out.
I also purchased these magic baby bottles.  You remember these right?  You turned them upside down and watched your baby doll "magically" drink it all up.  I was very hopeful that Peanut would be able to learn how to feed her baby just like the good little helper shes been with Ava.  (Fyi, she has never fed Ava, she has handed me the bottle and even tried to drink it herself lol)
I was not expected what actually happened.  Almost immediately she hugged her new baby and kissed its head.  Seriously, I almost cried!!  Then I showed her the baby bottle.  I told her that her baby needed to eat and showed her how to put it in its mouth (it doesn't actually have its mouth open enough to put it in).  I made yummy noses and told her the baby was hungry.  She took the bottle from me, first tasted it herself and even licked her lips as if she drank it.  Then she fed the baby!  Well, the bottle was basically up the babies nose and in its eyes, but I took it as a successful feeding 🙂
Truthfully, I could have screamed!!!  Here she was, doing something I honestly wasn't sure she would ever do.  She was pretending that this sweet baby doll was real, and needed to eat.  Proud was an understatement.  She was acheiving something we were told she may never do!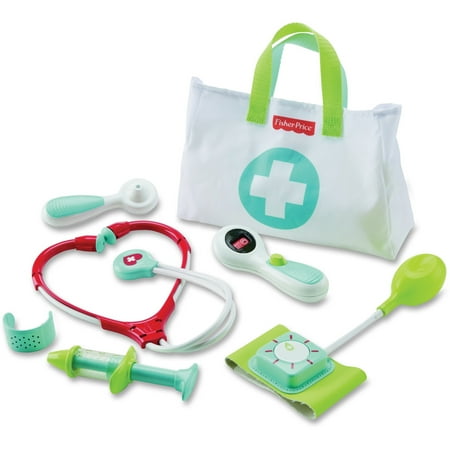 Now lets just to the doctor kit Santa brought her for Christmas.  Since she sees doctors at least once a month, we thought it would be a good way to make things less scary for her.  We really wernt expecting much from these.  Figured she would do her regular sorting or toss them around.  We were SO surprised that she first took out each toy carefully and laid them in front of her.  I sat with her and showed her what each toy did.  We checked her ears, listened to her heart, took her tempature and despensed medicine.  (Yea, we thought the shot was a syringe for meds…lol.)  This time she didnt copy my actions, but she handed me each toy to check her again.  Her sister came to join the fun and suddenly Doctor Peanut was in!  She took her blood pressure and allowed big sissy to check her.  Once again, there she was PRETENDING!!!  Our little girl was reaching a milestone that we have been working towards!!!  My heart almost exploted!!!
This has given us so much hope for our little Peanut.  Not only in just how she interacts at school with her peers, but also how she continues to develop.  Her Autism diagnosis did throw a wrentch in our plans for her.  But, it didn't put her life on hold!  She will continue to reach new milestones, she will continue to surpise us and blow us away.  Our Peanut is tough and whenever someone tells her she cant do it… it gives her the modivation to prove them wrong!
Find Peanuts toys on Amazon:
School Specialty 16540 Lots to Love Asian Baby Doll, 10″ Size
Toysmith My Sweet Baby Magic Baby Bottles